Last weekend I was supposed to do the E-Commerce assignment and revise my
Tamadun Islam dan Asia
'cause I got a test on Monday (which means today). On Saturday afternoon, my friend Aaron asked me for a movie at Mid Valley. All of a sudden, what came up to my mind was like '
Wow~ Yes! Go for a movie, go for a movie~ Lazy to start the assignment and the revision~ Lemme relax first
' xD
We watched
'Knowing'
on 7pm, Nicholas Cage starred in that movie~ The story of 'Knowing' is kinda interesting, I love the previous movie he starred in '
Bangkok Dangerous
'. =)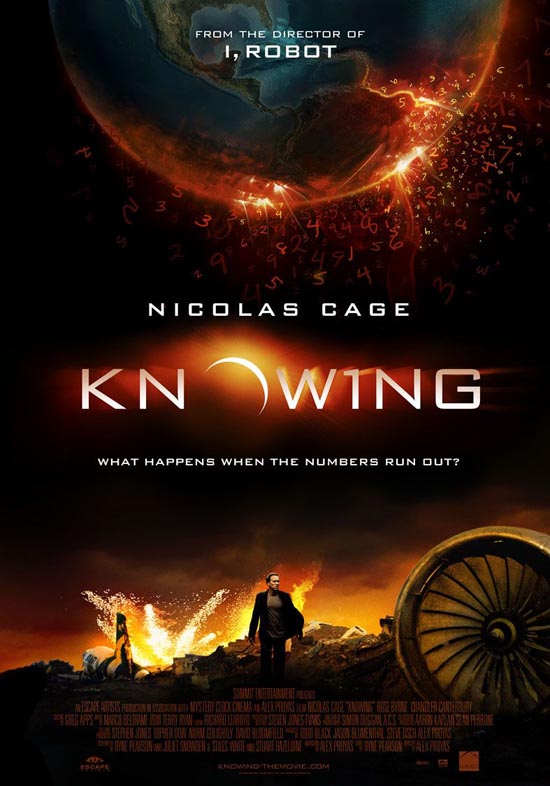 In this movie 'Knowing', the plot turns around John Koestler (Nicolas Cage), an MIT astrophysics nerd turned to be Indiana Jones when a time capsule is discovered at his young son Caleb's (John Koestler's son) school. Inside are drawings from students in 1959 predicting what things would be like in 2009 some 50 years later. The drawing that Caleb comes home with isn't a drawing at all but a series of seemingly random numbers. Koestler becomes obsessed with the numbers and their meaning or what they seem to mean. The whole thing shakes him to his scientific core and a quest has begun. The numbers in that paper has correctly predicted the future and more specifically a tragedy that just happened. With more terrifying events outlined in the capsule he sets out to solve the riddles before more lives are lost.
(
http://www.youtube.com/watch?v=RwQmPc8Uxi0
)
Okkay~ After the movie, it wasn't 9.30pm yet,
the Earth Hour still on
for that time. xD When I came out from the cinema, I noticed that
only McDonald's off the lights
. Why didn't other shop off some lights too? T_T Well, after movie, Aaron and I went for later dinner at Sushi King. =) Huhu~ And
I got a headphone
from Aaron, LOL~ Thanks Aaron~ Finally can blast songs to my ears again, with bass~ And thanks for calling me out to hang out too. xD
Then, on Sunday~ I met up with 2 of my ex-classmates to Times Square, they are Kon Nee and SJ~ They were my primary school classmates for 6 years, and during secondary school, we were in same class for at least 2 years again~
Wow~ So cool right?
Haha. xD Actually we were there to buy a birthday gift for Elza, but we weren't manage to get one. Aiks. >< Ended up everyone of us got something for ourselves.
LOL~
Kon Nee got a mouse for herself, I got a mouse for myself too, and a formal clothes and pants. Not to forget, SJ... Hmmm..
He got a honeydew
. LOL~ It's gonna feed a monkey in his dad's shop. Haha. xD How sweet is that. I never see real monkey for a very long time, I only see humans look like monkeys all the time. xD
I have spent a lot recently~
*Sob sob*
I'll try not to spend too much. =X But...
'Fast and Furious 4'
and
'Shinjuku Incident'
are gonna be in the theater on 2nd of April~ Hehe~ I'm gonna watch 'Fast and Furious 4' this coming Friday~ Hope the plan will go on, I wanna watch this movie~
After a lazy weekend, it was time to got back to the reality~ Haha. As mentioned, I got
Tamadun Islam dan Asia
test today, and
I have passed~
Hehe. I got 20/25, not bad right~? I wasn't really concerned bout the revision actually. LOL~ Don't punch me please. =P
I gotta get back to work now, work on my E-Commerce assignment. >< Be right back~
*winks*