Heyy I found my primary school group in Facebook.
:]
Last time I completed my primary education at
SJK(C) St. Teresa
, Brickfields, KL. The primary school is still there but it has been a very long time I didn't visit there, I only passed through sometimes.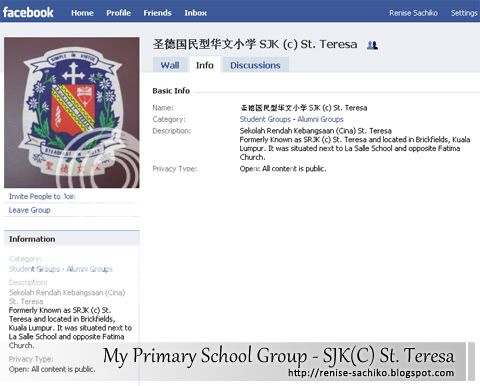 Well.. There was a test on Monday, it was Database System mid term test. We need to write the algebra expressions, SQL statements, and do the normalization. Our tutor still have not mark it, same goes to the Object-Oriented Programming mid term test that we had last two weeks, lecturer has not mark it yet, I guess.
= ="
Hmmm... What we did in this week was umm... Had an assignment discussion with lecturer, went to see the lecturer-in-charged of our internship programme to discuss an issue... On Friday, every class representatives (including course representative and the assistant) went to a dialogue session with a few lecturers from SAS (School of Arts and Science). I saw quite some complains, and suggestions regarding subjects being taught, and some college maintenance issues.
There is a good news to all the Advanced Diploma year one students..
The next semester is gonna begin

earlier

than ever.
Chinese New Year on 14th February 2010, and our third semester is gonna starts on
8th February 2010
. Whoooaaa... Does it still consider a good news for the year one students? Or... It is rather a bad news now?
LOL~
It is the decision of the college to begin the semester earlier, so that we have enough time to prepare the proposal for our FYP (Final Year Project) and so on. Besides, the tutorial and practical classes are gonna starts on first week of next semester too.
LOL~ Totally bad news now? xD
In this semester, there are 3 to 4 public holidays fall on Friday. Grrrr... Good or bad? We have classes on Friday as scheduled, because of the public holidays, lecturers and the class reps gotta crack their heads arranging time for the classes replacement. Different subjects clashed together, and we have to reschedule again and again.
Tsk tsk tsk
...
Troublesome!
I made a table to list down all the important dates for classes replacement and so on, e-mailed all my classmates. To make sure they check their e-mail, i wrote a note in Facebook, and tag them one by one. Haha~ So that they are alert with the e-mail.
xD
Since almost everyone of them used to login to Facebook everyday, it's great tool to broadcast information to them in this way.
Look at the schedule~ Those
yellow
highlighted ones are classes replacement,
red
ones are assignment and report due dates, and
blue
ones are practical tests and written tests. *
faint
*
Aza aza fighting!
Busy period still goes on~
Let's enjoy a song together, my friend Barnabas sent this to me. I do admire its lyrics.
:]